Brake Protec keeps your pads reliable!
Coinníonn Brake Protec do phillíní iontaofa!
Do you also suffer from sand and mud between your brake pads and disc brakes of your mountain bike, cyclecrosser or racing bike so that your brakes wear extra and unnecessary? While you don't even use your brakes often!?

The solution can be found below!
Brake Protec Systems keeps maintenance low by keeping your brakes free from sand and mud.
The brushes from the Brake Protec only hits the rotor for the first 50 -75 km! After this, the brushes no longer touch the rotor and only wipe sand and mud off the disc for 10,000 km.
Why using Brake Protec Systems?
Less brake maintenance.

Less costs for brake pads

No more annoying sound of sand eating away at your brakes.

Full brake power, regardless the terrain.

Our guarantee
Brake Protec guarantees that it fits on your bike and brake.

The brass brushes last for +/- 10.000 km.

Easy to install.

30 day money-back guarantee.
We ship the Brake Protec all over the world.
​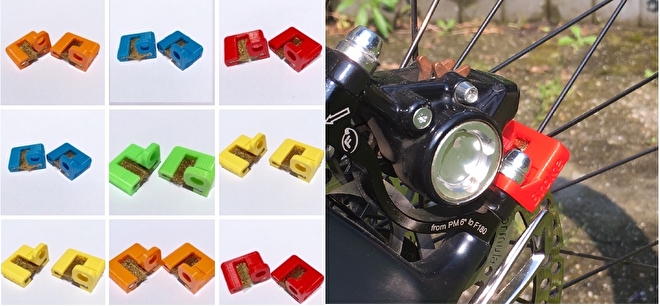 Less maintenance!
Maintenance is necessary to maintain the bicycle. This also includes servicing the brakes. Unfortunately the wear of the brake pads and discs takes place while driving. So cleaning your brakes after the ride is not the best solution to keep them in good shape.
Operation
By placing the Brake Protec System with its gentle and soft brass brushes just before the caliper, dirt is wiped off the disc while driving. The Brake Protec System prevents sand and mud from being transported to the brake pads. This prevents extra and unnecessary wear on brake pads.
That is what the Brake Protec system does for you, performing maintenance while you enjoying the ride, enjoying the race and working on that challenge.
Safe and trustworthy.
Your brake pads last longer, so you won't miss them if you really need them.

Better braking.

Thanks to the Brake Protec System you can once again use softer brake pads, because that brakes more pleasantly.
Efficiency.
Your bike experiences less friction or resistance from sand and mud between the discs and brake pads, so you have less energy loss. This makes you a better rider, maybe a winner.
Warning for our customers in the UK: After the Brexit, some costs, such as shipping costs and bank / Paypal, money transfer orders will increase. Better order now!


Guestbook
08-08-2019

- Hello Jack!

Thank you so much for your friendly and... 

read more

28-04-2019

- Hi jack !

First of all your brake protec is... 

read more

14-02-2019

- Order placed early November ,sent very quickly. Received part... 

read more
New message