Please note the follow attention points:
1) Make sure that the torque to tighten the Brake Protec between the bold from the caliper is not more then 6 - 8 Nm.
2) We recommend a torque wrench to reach the 6 - 8 torque. If not, you can compare it with the power produced by an adult man with a large screwdriver.
3) Use the original revet from your caliper and bold or a revet not bigger then 11,7 mm.
4) After montage the Brake Protec it will take 50 - 75 km to fit the brushes to the brake Disc. After riding these distances the brushes will not touch the brake disc anymore and only wipe the dirt from the disc.
5) The brushes you can order separately later when it need to replace after +\- 10.000 km.
Placing the Brake Protec:
The Brake Protec with the brushes on both sides of the brake disc, placed directly on the brake caliper.
When tightening the bolt, ensure that the brushes on each side rest against the brake disc for a while and do not twist it. The whole finds itself and it is practically alone to accompany, until the bolt is stuck.
(zie Fig. 2)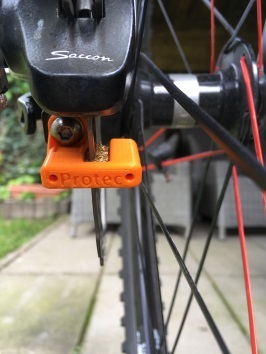 Note:
a) The Brake Protec is made by high tech 3-D printing and with the right material for its goal, cleaning you brake disc from sand and mud during every ride in every weather or temperature.
b) The Brake Protec profile is made to break down when it comes in contact with another externally strong force by another hard material like in a collision or accident, this to prevent damage to other brake parts or causing resistance between rotating parts, during a contest.
Have much fun mountain biking with the Brake Protec.